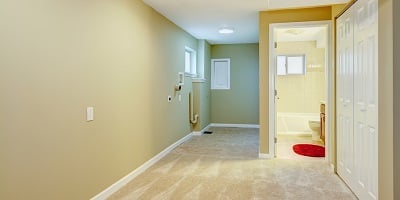 In any well-finished space, you'll see the finishing touches of trim work, crown molding, chair rails, base molding, etc. Simple to install on wood framing, these traditional accents can create a truly polished look, and are almost always made of wood. These features are often missing in spaces like basements or office buildings. The reason is simple, commercial spaces or those prone to moisture are often framed using steel studs and historically, attaching anything to a steel stud, other than a steel stud, has been less than efficient. Here we discuss the variations in studs from wood to steel, and the tool that is making the bond between wood trim and steel studs possible.
Comparison of Wood to Steel Studs
There has been a long debate as to whether a steel stud can be used to frame house. The choice of wood or steel studs depends on many factors. However, it is essential to look at the advantages of using either of the methods depending on your project.
Traditionally, softwoods have been the framing stud material of choice. Softwood has been easier to acquire and is generally very affordable. There are a huge variety of sizes when it comes to wooden studs. You can find anything as small as a 2"x 4" and 2"x 6", or something as large as a 2"x 8". These kinds of studs are made from softwood trees like pine and spruce and are referred to as light structural lumber. They are, however, susceptible to moisture, rot, and pests as well lack of consistency.
Steel studs are engineered of aluminum or steel to be sturdy, stable, and reliable. They can withstand the effects of earthquakes or even tornadoes. Steel studs are water-resistant, fire-resistant, and consistent in that they do not shrink or warp regardless of the weather condition. Because of this, your insurance premium will be lower due to reduced risks. Steel studs are not bulky and thus pose no challenge when it comes to storage, which is why they are used in commercial construction projects. They are also easier to maintain after installation.
The Trimfast® System
Although steel studs have numerous advantages compared to wood studs, there has been a historical challenge when it comes to fastening finishing details like moldings. However, with a Trimfast® pneumatic fastener, this barrier has been lifted.
ET&F®, a BECK brand, has developed a line of Trimfast® pneumatics designed for attaching hardwood and softwood molding, chair rail, crown molding and baseboards to steel studs. The tools feature an easy-load magazine, compact design and lightweight design. These models have adjustable overdrive control, directional exhaust ports, and last nail lockout to prevent blank firing. At 100psi maximum air pressure, the tools consistently countersink the fasteners even when used with hardwood moldings.
Trimfast® Bringing Wood Finishing to Steel Studs
Mortal enemies no more, bring the finished look to previously uncharted territories by attaching wood finishing elements to your steel framework. ET&F® and the BECK Group have the solutions you need.